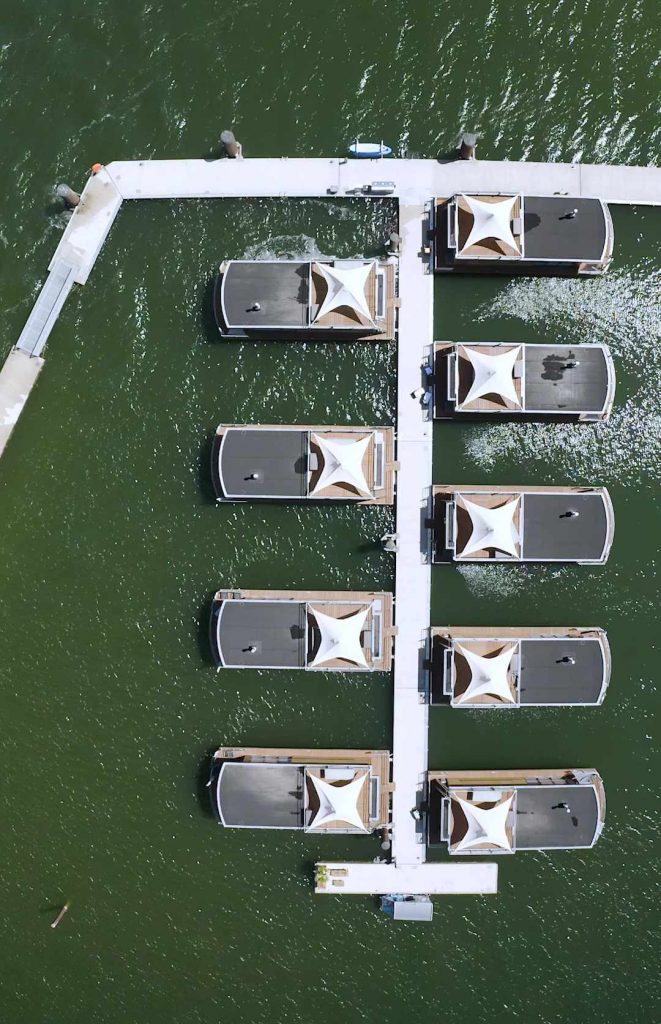 Due to the isolated location on the lake, weather-related restrictions are to be expected – for example, water spilling onto the jetty when there are strong waves, or a risk of slipping when there is a frost. When the water in Lake Brombach (an artificial lake) is low, the access from the peninsula is steeper than is the case with "normal water". Even if it precisely this maritime feeling that many of our guests enjoy, we would like to point it out to you in advance. Of course, we clear and secure the entrances and exits to ensure safe access. We also use our "Floating Village shuttle" for this, which transports you by land and water.
It basically makes sense for you to use luggage for these journeys that you can transport "easily" and safely on the landing stage (such as a suitcase with wheels). The route from the car park to the water villa is about one kilometre, and we will support you with our shuttle on some sections. We provide a handcart for luggage.
All water villas are at least 5 metres apart, which means "your minimum distance" from others is guaranteed in the Floating Village. We have developed a comprehensive protection concept for the Floating Village for your stay. Due to the coronavirus, there may be changes in operational processes due to legal requirements
COVID-19 protective measures
Since April3rd, 2022 the previously applicable Corona regulations are no longer valid, so currently no vaccination or test certificate is required.
Compliance with general protection and hygiene recommendations, such as wearing a mask and keeping the minimum distance, is still recommended.
In the case of symptoms associated with COVID-19 (acute, non-specific general symptoms, fever, loss of smell and taste, etc.) or a positive test result, it is not permitted to come to the Floating Village
We would like to point out that the latest legal regulations apply in each case, and we comply with these.
Our water villas are over 250 metres from land and at least 5 metres apart from one other. We guarantee you a safe stay with our Floating Village → protection concept.
Currently, there are no travel restrictions for guests from regions that have an increased incidence
Due to the current legal regulations and changes to these, we would like to point out that the information provided is subject to possible errors.
Floating Village protection concept
You can download our Floating Village protection concept as a PDF file here.